Collection: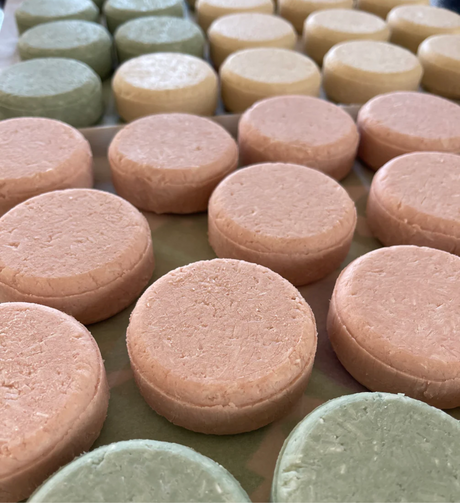 Collection:
Shampoo bars
Shampoo bars
Regular price

Sale price

$14.00
Shampoo bars, how do we love thee? Let me count the ways:
1. Lovely coconut-based ingredients that are gentle even on dry, damaged and colored hair. 
2. Zero plastic!
3. Travel-friendly. Because they're not liquid, they go anywhere without spilling, leaking or having to stay under 4 oz for TSA screening. 
4. They lather beautifully and smell amazing! 
Ingredients: sodium cocoyl isethionate (coconut-derived), sodium lauryl sulfoacetate (coconut-derived), coco glucoside (coconut-derived), mango butter, kaolin clay, fermented koji rice water, guar gum, phthalate-free fragrance, citric acid and Germall Plus
Each bar weighs 100 grams.
Instructions:
- Wet your hair - if it's not really soaked, it's difficult to get a good lather.
- Wet the shampoo bar with a little water and rub it in your hands to start creating some suds.
- Apply the shampoo bar directly onto your hair and massage gently across all parts of your scalp.
- Gently work the shampoo right into your hair. Avoid rubbing too vigorously as this can cause tangles later, but make sure the shampoo is worked in well.
- Rinse thoroughly with warm water, ensuring to remove any remaining shampoo.
Shampoo bars come in the following scents:
Watermelon: The scent is watermelon, honeydew, mandarin, strawberry, lily of the valley, amber and violet. This is one of our most popular soap scents.  

Sweet Floret: The scent is a mix of grapefruit, melon, jasmine, heliotrope and raspberry. Notes of cherry blossom, musk and white amber round out the scent. It's a delicious floral + berry combo that is sure to become a favorite. 
Mango + Coconut: An irresistible island blend of mango, pineapple and orange zest topped off with a splash of coconut milk. Use this to get your hair smelling summer-ready!
Sea Salt & Lily: a complex scent that you will want to smell all day long! Coconut water, pink Himalayan salt, key lime, lotus, rose, and sage leaf, as well as essential oils like lemon and grapefruit. Then bottom notes of seashell, orange blossom, magnolia, and jasmine.
Blueberry Thyme: One of our absolute favorite scents: the fruitiness of blueberry and the fresh, green scent of thyme. So lovely!

Lava Flow Citrus: a happy citrus blend - tropical fruits, sugared oranges, lemons, limes, and exotic mountain greens.

Mint & Rosemary: This is one of our most popular scents! A refreshing blend of rosemary, fresh garden herbs and zesty mint combine for a wonderful shampoo bar.

Rogue: A bold, masculine scent that is a perfect blend of clean, citrus and musk. And this is just as popular among women as it is men! 
Founders Kara and Julie each bring unique skills to the Wild Rye Soapery product line. With a degree in fine arts, Kara brings the beauty to our designs while Julie provides the chemistry expertise to create our skin-loving formulas. Thank you for supporting our small business!