Collection: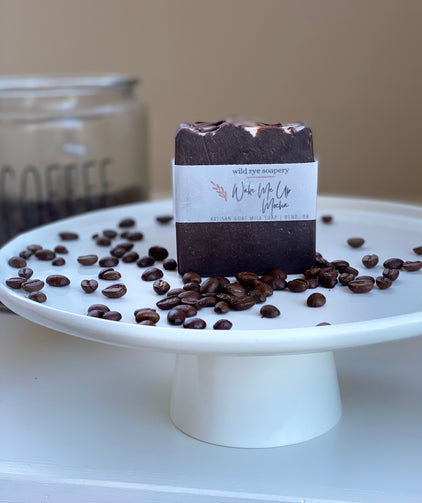 Collection:
Wake Me Up Mocha Goat Milk Soap
Wake Me Up Mocha Goat Milk Soap
Regular price

$9.00

Sale price

$7.00
If you like the aroma of a coffeehouse, THIS is the soap for you. The scent on this one is a delicious blend of espresso and chocolate - a mocha for your shower!
Ingredients: Saponified oils (olive oil, coconut oil, shea butter, avocado oil, rice bran oil and castor oil), sodium lactate, responsibly-sourced mica, goat milk, kaolin clay,  and phthalate-free fragrance oil.
This is a handmade product and will have some variation in size and color from one bar to another. 
*Please note - because this is a solid brown bar, there may be a tinge of brown in the lather. This washes away with the dirt and water and does not stain skin. It's all part of the nature of coloring handmade soap, but it can be concerning if you aren't expecting it. 
Founders Kara and Julie each bring unique skills to the Wild Rye Soapery product line. With a degree in fine arts, Kara brings the beauty to our designs while Julie provides the chemistry expertise to create our skin-loving formulas. Thank you for supporting our small business!